Central Student Advisory Service (ZSB)
Academic Advice at TU Dortmund University
The Academic Advice team assists school students, prospective students who have already gained their high school diploma (Abitur) and anyone else interested in studying or with a question about studying at TU Dortmund University.
The team can advise you on a wide variety of topics such as:
Study orientation
Choosing a program and making your decision
Study options
Program contents and requirements
University admission and admission requirements
Application and enrollment
How to organize and structure your studies
Changing program or subject
Doubts about studying
Studying without a high school diploma (Abitur)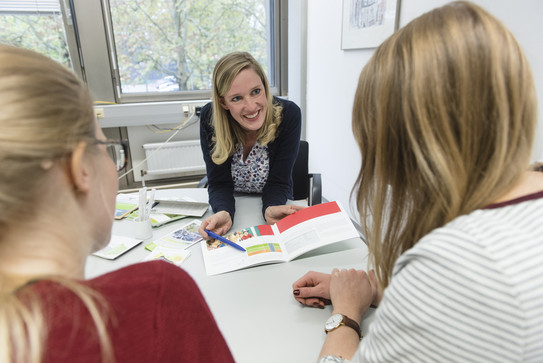 Consultation hours on site
Personal counseling is available without an appointment or pre-registration.
Monday: 1 - 3 pm
Wednesday: 1 - 3 pm
You will find us at Emil-Figge-Str. 61, Campus Nord, 44227 Dortmund. Please take a seat in the waiting area on the 1st floor.
International applicants can contact the International Office team.
Telephone consultation hours
The Academic Advice team also offers counseling via telephone: +49 (0) 231-755 8080
Friday: 10 - 11.30 am
Last Tuesday of the month 4 -5.30 pm.
Preliminary information to do with programs, university admission, dates and deadlines, application and enrollment formalities and contact persons is available by telephone and email.
Phone: +49 (0)231 755-2345

Monday - Friday: 9 am - 1 pm

Email: zsbtu-dortmundde